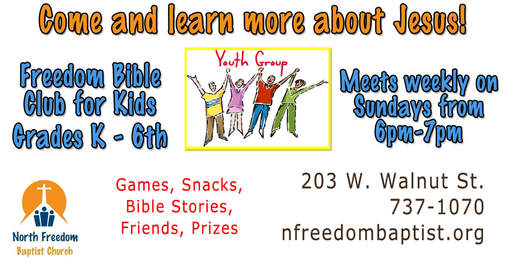 January Regular Monthly Services and Ministries:
Sunday School: Sundays 9am
Worship Service: Sundays 10am
Kid's Bible Club: Sundays 6pm
Connections: Wednesdays 7pm
Men's Gathering: Thursday, Jan. 18th at Pizza
​ Ranch at 6:45pm
Family Fun Night: Friday, Jan. 19th at 6:30pm
​ at the church
---
---
Trunk or Treat - 2017
Freedom Bible Club Kids 2017
CornFest - 2017
5 Day Club - 2017
---
Talent Night 2017
Hello everyone,
Heather found a really nice study/devotional guide that goes very well with our Chronological Bible Reading Plan for this year. I will have copies available at the church for you to look at to see if you would like to use them along with your daily reading.
I will also have some maps, pictures, and illustrations of such things as Israel's festivals, the meaning of the items in the Tabernacle and so on, when we get to that point in the readings.
If you would like to look for yourself and download at home click on this link
Daily Reading Guide
I will also post this link on our church website in the Events and Activities section sometime in the next week.
I hope that you are able to take advantage of these free materials and deepen your understanding and reading of God's Word.
Grace and Peace,
Pastor Andy
---